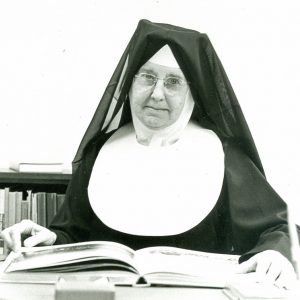 Sister St. Francis Sullivan devoted her career as a Sister of St. Joseph to the education of young women. By 1931, she had earned a doctorate in French. After teaching high she began her forty-year career in the French Department at Regis College as faculty and chair, in addition to fulfilling other collegiate duties, as well as directing the Extension School for the education of young Sisters. During her academic career, she did research and published articles and book reviews, as well as editing, and was active in a number of professional organizations.
In addition to her collegiate duties, she became a member of a group of nine Sisters of St. Joseph engaged in translating from French the Maxims of the Congregation, which had been written in the seventeenth century.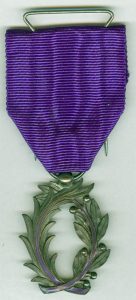 In 1952, the French government bestowed on her its highest academic award, Les Palmes Académiques, with the added distinction of Officier de l'Académie. Due to a glitch in communication, Sister St. Francis was studying in France when the French consul-general in Boston conferred the award at an Academic Convocation at Regis College.
Mary Rita Grady, CSJ, Archivist
Boston CSJ Archives